Get the Most Out of a Holistic Health Conference | achs.edu
I am a student at the American College of Healthcare Sciences and won an ACHS scholarship to attend the 2019 National Association of Nutrition Professionals Conference in Tucson, Arizona. I was excited and overwhelmed as I boarded the 3-hour flight from Seattle to Tucson. The ACHS summer semester had started a week earlier, and I planned to do some reading before getting to the conference.
Experts in holistic health give the low-down on niche topics.
A gentleman sat down next to me and asked if Tucson was my home or if I was just visiting. I recognized him right away, Dr. Thomas O'Bryan. He would be teaching the NANP Pre-Conference Workshop, "Gluten, Wheat & Autoimmunity," for attendees to become a Certified Gluten Practitioner (National Association of Nutrition Professionals, NANP, 2019). What a providential meeting, and although I did little reading on the flight, I had the opportunity to get to know him and discuss holistic health.
The pre-conference workshop with Dr. O'Bryan was a comprehensive training on understanding and identifying gluten-related disorders and their link to chronic diseases and autoimmunity. Dr. O'Bryan also offers ongoing support for Certified Gluten Practitioner's (CGP) with the latest research, training videos, webinars, and client education materials (Certified Gluten Practitioner, 2019). The workshop was terrific, and during lunch, I had the opportunity to meet with NANP conference staff and was asked to do an interview on my experience as a student attending one of the pre-conference workshops. This turned out to be a great way to network and get exposure at the conference and on social media.
New perspectives open the door to enhanced healing.
There were many sessions I wanted to attend but unfortunately, they overlapped, so I had to choose what I found most interesting and valuable to my modality. I attended another notable session titled, "Understanding the Oral Microbiome and its Essential Role in Nutrition, Health, Inflammation, and Disease," presented by Dr. Jerry Curatola a biologic dentist (NANP, 2019). He discussed in detail how important the oral microbiome is in overall health and its essential roll in life, protection, digestion, and immune system regulation.
Networking, or making new friends who share your passion, helps us all succeed as holistic health entrepreneurs.
ACHS had an evening meet & greet where I was able to connect with other students, Stephanie & Holly, one of my professors, Nicole Betschman, Amy Swinehart (Dean of Admissions), and Amanda Heller (Associate Dean of Admissions). All of us were able to spend time together at the college booth in the expo. What an experience spending time with my ACHS family! I was able to practice introducing myself, talk about what I am learning, and my future goals. Spending some of my free time at the ACHS expo booth was central to being able to talk about my passion for holistic health and what I want to do when I graduate.
Next year, the NANP Conference & Expo is being held in Newport Beach, California and is called HealCon 2020. I plan to attend next year and hope to meet other students, alumni, and leaders in the industry.
Whether you are a seasoned attendee or if this will be your first time, here are five ideas to get the most out of a holistic health conference:
Look through the schedule of events and the agenda and pick out the sessions that are most interesting to you.
Introduce yourself to other attendees at sessions and during meals and exchange information or give out your business card. Better yet, connect through social media while at the conference. (You never know when your next connection will be your best collaboration!)
Take notes during the sessions marking information to research later. Make sure to review your notes when you get home.
Attend networking events and meet & greets. It is the perfect opportunity to make authentic connections with peers and speakers from the conference.
Walk through the expo to see the latest products and services. The expo is another perfect place to make connections and find out what exhibitors love about the holistic health community. Your next research paper may influence their products!
Enjoy down time to take care of yourself. Holistic conferences are fast paced with information overload and socializing. Relax by the pool, listen to music, or exercise (NANP offered yoga by the pool in the morning).
I had a blast with the ACHS faculty and students at the conference! I made great connections, both personally and professionally. My goals in attending the NANP conference were to learn from experts, meet ACHS faculty, students, & alumni, and network with others in the holistic health field. I feel like I accomplished that and so much more. I flew home from the conference with a newfound excitement to study, learn, and connect with others.
Stephanie Pattison & Tracie Cleavelin
Nicole Betschman & Tracie Cleavelin
References
Certified Gluten Practitioner. (2019). Once you are certified. Retrieved from https://certifiedglutenpractitioner.com/once-you-are-certified/
National Association of Nutrition Professionals. (2019). 2019 NANP pre-conference workshops. Retrieved from https://www.nanpconference.com/2019-pre-conference-workshop-dr-tom-obryan/
National Association of Nutrition Professionals. (2019). Understanding the oral microbiome and its essential role in nutrition, health, inflammation and disease. Retrieved from https://www.nanpconference.com/2019-nanp-conference-speaker-gerald-curatola/
About American College of Healthcare Sciences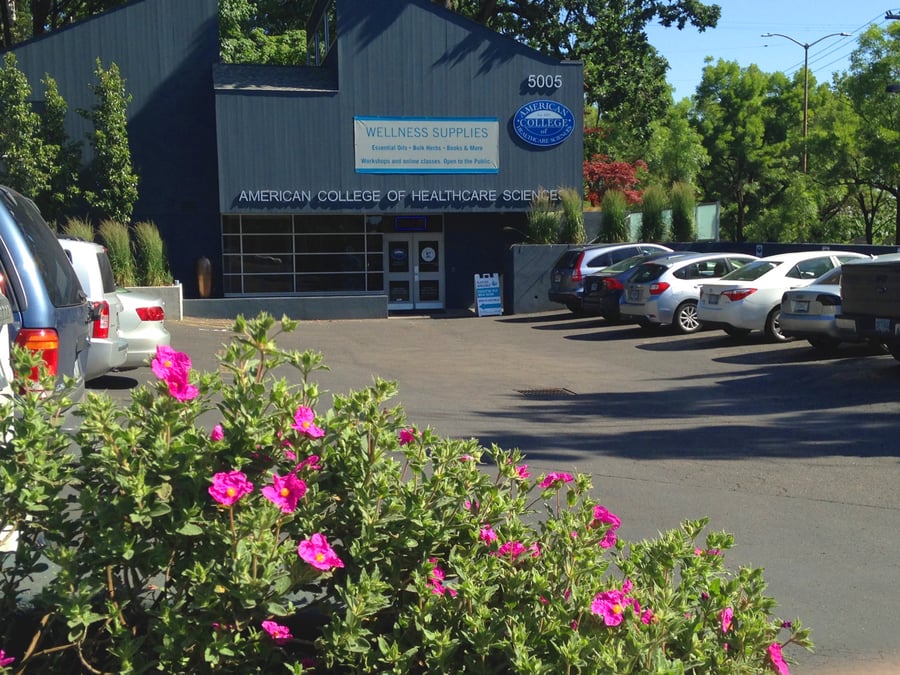 Founded in 1978, ACHS.edu is a Portland, Ore.-based, accredited college offering online, on-campus, and study abroad integrative health education. With undergraduate and graduate degrees, diplomas, certificates, and continuing education units in integrative health, ACHS makes holistic health and wellness education accessible to a diverse community, including healthcare professionals, military students, stay-at-home parents, and lifelong learners. Specializations include aromatherapy, herbal medicine, holistic nutrition, and integrative health. ACHS is a Certified B Corporation® and was named two of 100 Best Green Workplaces in Oregon 2017 by Oregon Business magazine. ACHS is also accredited by the Distance Education Accrediting Commission (DEAC), which is recognized by the U.S. Department of Education and by the Council for Higher Education Accreditation (CHEA). In response to our commitment to service members, veterans and military spouses, ACHS has been designated as one of the top 16% of military-friendly institutions in the U.S. for nine years in a row. For more information visit achs.edu.