Pamper Yourself and Soothe Stress with a Natural Spa Day | achs.edu
Copyright: 123rf.com
Want a spa day but don't have a chemical free spa near your home? Consider creating a special spa day in your own home just for you. You can plan your spa experience by creating an agenda complete with a timeline. Simplify your day by preparing ahead for the ingredients you need and make products in advance as you can.
Soothe your Senses with Holistic Treatments
Set the mood with aromatherapy and soothing music to help you melt into your day of beauty. Choose an essential oil blend or single note that you find relaxing and uplifting. Organic lavender, rose and sweet orange essential oils and avocado oil are some of my favorites.
Copyright: 123rf.com
Yoga stretches and a homemade green smoothie for breakfast will energize and prepare you for a revitalizing facial. (According to the NIH, practicing yoga has shown promise for many health purposes.
This is the organic natural facial I recommend to create glowing healthy skin:
Prepare the following in advance of your facial using organic ripe ingredients:
A half ounce of squeezed wheat grass juice
Two thin slices cucumber
Process ¼ to ½ cup organic papaya in a small amount of filtered water to a thick paste consistency
Process ¼ to ½ cup organic avocado in a small amount of filtered water to a thick paste consistency
Warm organic honey for easy application with a facial brush
Dilute organic green tea and place in a spray bottle
Have organic avocado oil on hand for massage
Plenty of hot wet towels wrung out and kept warm throughout the facial
Facial Procedure:
Massage avocado oil into the face, neck and décolleté
Drape the entire area with hot moist towels for about 30 seconds before washing the oil off the area
Use cotton pads to apply wheat grass juice to face, neck and décolleté – leave on for 1 to 2 minutes
Drape the entire area with hot moist towels for about 30 seconds before washing wheat grass juice off
Apply papaya mixture to the face, neck and décolleté leave on for 5 to 8 minutes (papaya is a natural exfoliant)
Clean papaya mixture off with cotton pads prior to draping the area with hot moist towels to remove any remaining mixture
Apply avocado mixture to the face, neck and décolleté and place a cucumber slice over each eye. Leave on for 5 to 8 minutes (Avocado is a natural moisturizer)
Use cotton pads to remove avocado mixture, then drape with hot moist towels to open pores and remove any remaining avocado from the areas
Use avocado oil to massage the face, neck and décolleté always using upward motion (about 10 minutes)
Apply organic honey with a facial brush and apply open gauze pads over honey to keep it from running into the hair and ears
Remove honey with hot moist towels
Lightly spray green tea for toning and finish with an application of your favorite moisturizer or coconut oil
After your facial, enjoy a bath scented with essential oils and if you enjoy a good soak this is a perfect time to apply a moisturizing hair mask and manicure your nails. Finish up your natural spa day by styling your hair and applying a moisturizing tinted sunscreen, a bit of gloss, light blush and mascara to allow your natural glowing beauty to shine through. (to learn more about how to use essential oils effectively and safely you can download free e-books and white papers here.
One of American College of Healthcare Sciences (ACHS) graduates is producing a skin and hair care line called Grow Out Oils that I've recently tried. My nails are damaged from using gel polish and I'm finding her nail oil formula especially healing as I'm going back to natural nails. I simply love the breast and body oil and the hair moisturizing spray. Just a few spritzes in the morning calms down my dry, fly away, baby fine hair without weighing it down.
Are you interested in a career managing a holistic wellness spa? ACHS has an accredited online spa management program perfect for you. ACHS also has aromatherapy certificate and degree programs and you can purchase organic pesticide free oils and products at the Apothecary Shoppe.
About American College of Healthcare Sciences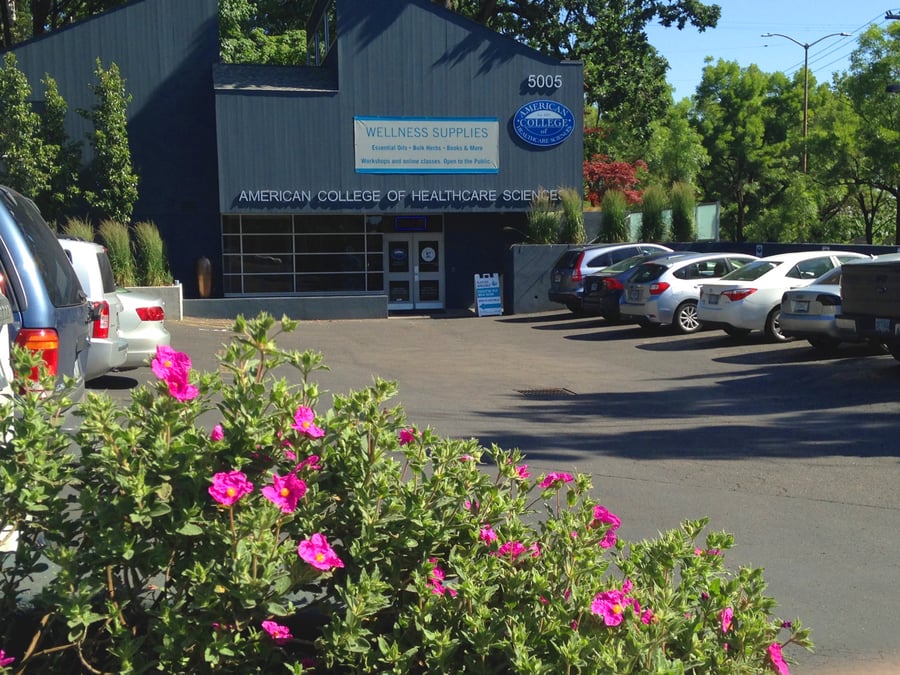 Founded in 1978, ACHS.edu is a Portland, Ore.-based, accredited college offering online, on-campus, and study abroad integrative health education. With undergraduate and graduate degrees, diplomas, certificates, and continuing education units in integrative health, ACHS makes holistic health and wellness education accessible to a diverse community, including healthcare professionals, military students, stay-at-home parents, and lifelong learners. Specializations include aromatherapy, herbal medicine, holistic nutrition, and integrative health. ACHS is a Certified B Corporation® and was named two of 100 Best Green Workplaces in Oregon 2017 by Oregon Business magazine. ACHS is also accredited by the Distance Education Accrediting Commission (DEAC), which is recognized by the U.S. Department of Education and by the Council for Higher Education Accreditation (CHEA). In response to our commitment to service members, veterans and military spouses, ACHS has been designated as one of the top 16% of military-friendly institutions in the U.S. for nine years in a row. For more information visit achs.edu.