Stress Managment During COVID-19 | achs.edu
Image copyright: pexels.com
All of us around the world may be experiencing stress more often or more intensely because of the COVID-19 pandemic. Because of this, we have found that stress management is a much-needed topic during these times. With that in mind, we've created a week-long stress management webinar series designed to help you slow down, take a moment to breathe, and learn some new and helpful tools to support you.
Stress Management Webinar Series
The series features a new presenter each day of the week from August 24 to 28.
Monday, August 24 @ 3 pm: What is Stress with ACHS Marketing team members Andy Pierson and Gillian Turner

We all know what it's like to feel stressed, but what IS stress exactly and how does it tend to affect us mentally and physically? Learn some basic ways to identify stress and also get some tips to manage it.

Tuesday, August 25 @ 3 pm – Iron Shirt Qi Gong with ACHS Professor Anisa Kassim

Qi Gong focuses our intent on one breath at a time, one movement at a time, which trains our mind to stay in the moment. The Iron Shirt Qi Gong series helps to strengthen our immune system as each movement enhances the associated meridian channel, thereby bringing our body into a relaxed state and into homeostasis.

Wednesday, August 26 @ 3 pm – Holding Space for Yourself in Uncertain Times with ACHS Senior Admissions Advisor Molly Sykes

A conversation about setting boundaries, expectations and routines that will allow you to thrive during chaotic times.

Thursday, August 27 @ 3 pm – Leveraging Positive Stress to Promote Growth and Resiliency with ACHS Dean of Students Natalie DeWitt

What if every time we encountered a problem, we took less fault personally, and instead, adopted a lens that promoted growth and commitment to our goals? In this webinar, we will discuss practicing Resiliency ABC's, focusing on progress rather than goals, acquiring an adaptive mindset, and learning to perceive obstacles as challenges rather than dealbreakers. Join us to learn how to cultivate a mindset that fosters success, happiness, and resiliency.

Friday, August 28 @ 3 pm – Mindfulness & Breathing: Practice to Relieve Tension & Stress in Present Times with ACHS Graduate Student Jennifer Langsdale

Enjoy a simple and easy practice that will lift your spirits, clear your mind, and increase your focus at work, home, or during your educational studies. Jennifer is a 15 year yoga and wellness professional earning her Master's in the Science of Aromatherapy at ACHS, and is looking forward to giving you valuable tips to get you through your semester and life practices.
Aromatherapy To Support Calm
During this crazy time, when everything feels out of our control, it feels good to tackle the things you can control such as your stress level. Our Calm is Contagious DIY Blend will help take the edge off and give you that tranquil vibe that is eluding us all right now. Diffuse it or add to a nasal inhaler and inhale deeply, or try combining Calm is Contagious Blend with your favorite carrier oil for a luxurious moisturizing rub after a bath. If you prefer you can even add this carrier oil blend to your bath and enjoy a de-stress soak. Another effective way to use it is to add it to argan oil which is great for hair health and give yourself a deep scalp massage and leave on overnight. De-stress and healthy hair!
Now breathe and enjoy ………
Disclosure of Material Connection: This blog may contain affiliate links. I am disclosing this in accordance with the Federal Trade Commission's 16 CFR, Part 255: "Guides Concerning the Use of Endorsements and Testimonials in Advertising."
This article is for informational purposes only. It is not intended to treat, diagnose, cure, or prevent disease. This article has not been reviewed by the FDA. Always consult with your primary care physician or naturopathic doctor before making any significant changes to your health and wellness routine.
About American College of Healthcare Sciences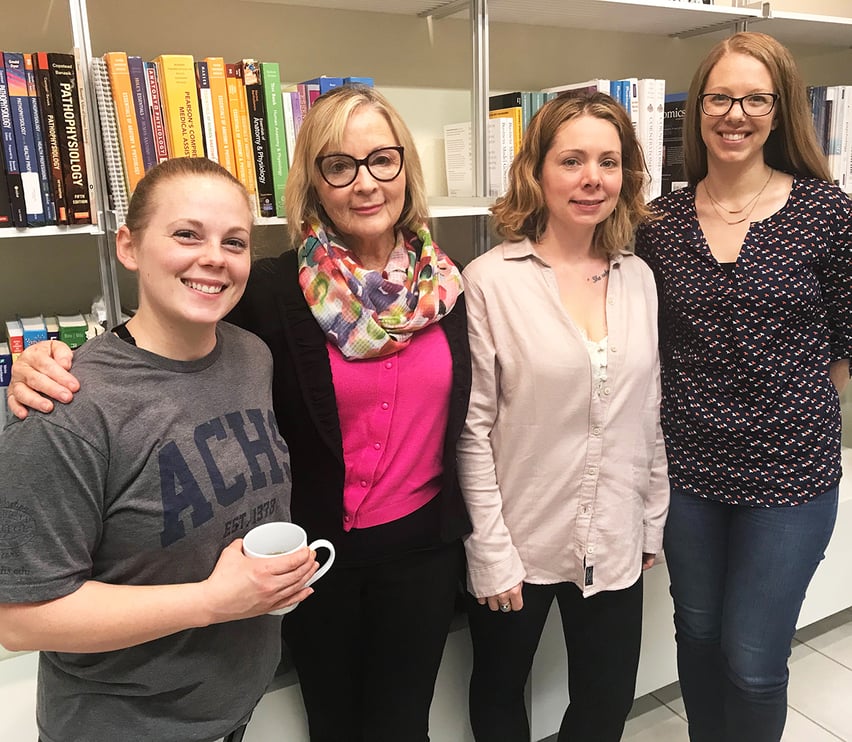 American College founded in 1978, is a fully online accredited institute of higher education specializing in holistic health. Based in Portland, OR; our goal is to make research-driven and science-based holistic health education taught by industry-leading experts accessible to anyone anywhere while still giving students a hands-on experiential learning experience like a traditional college and a strong sense of community, school pride and student bond.
This commitment to our students and graduates reflects in our current survey results that reflect 98% of our students would recommend ACHS to a friend or family member.
We believe education is the most powerful tool for changing an individual and the world around us.
When a person enrolls as ACHS, it is vitally important that they graduate with tools they need to forge their own holistic and sustainable missions, build up their communities confidently and changing the face of healthcare with knowledge.