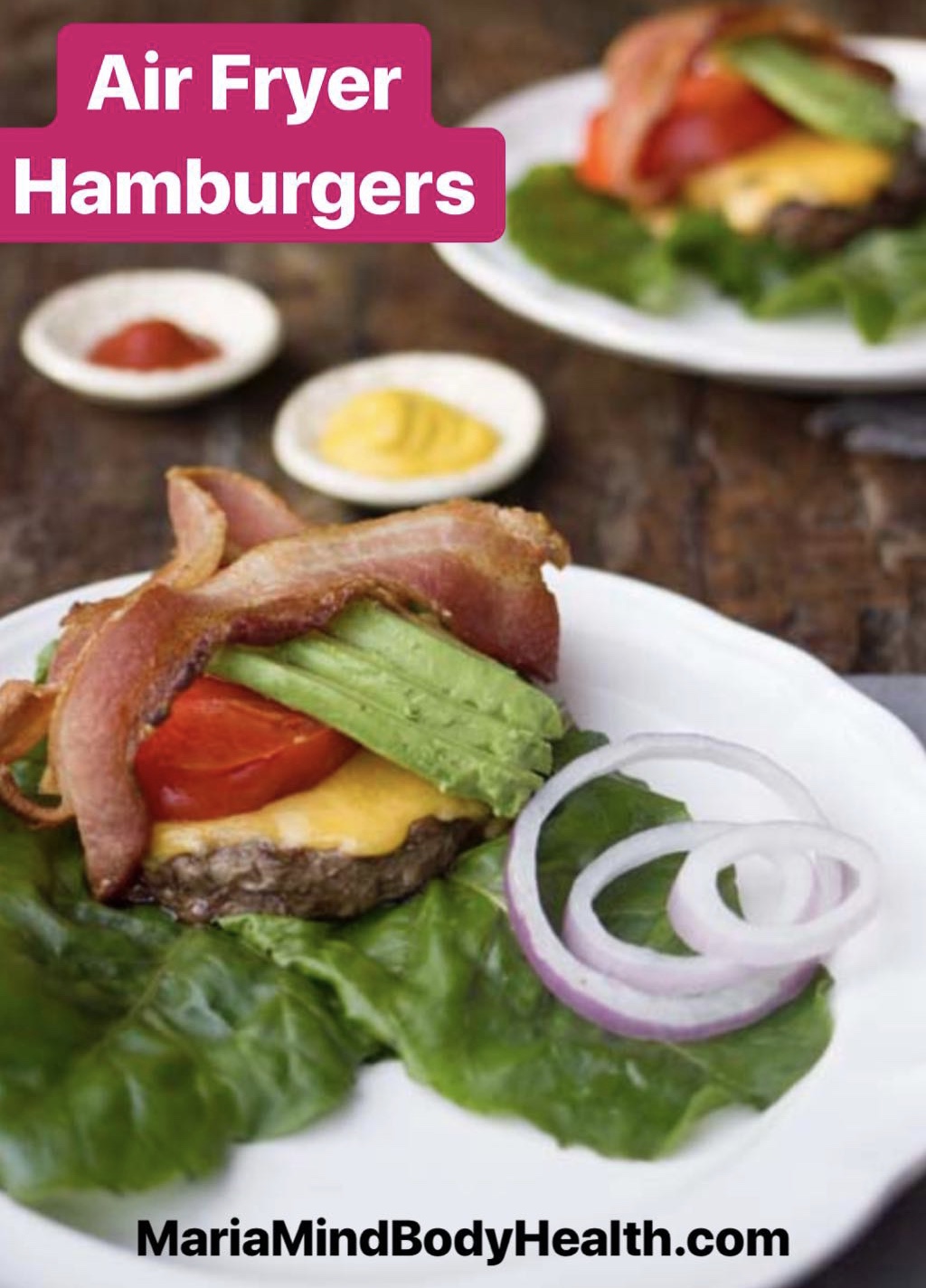 Many of you know that I love hamburgers and I have one almost daily! A breakfast burger, a bacon burger, a smothered burger with onions and mushrooms. I even had a butcher call me almost in tears because I wanted him to grind up the rib-eye steaks when we get a grass-fed cow from my client who sells grass-fed cows.
Butcherbox knows how much I LOVE hamburger too so they are doing a special deal for my readers!!! This is the best deal ever!!!
Deal: New customers who sign up will receive 2 lbs of grass-fed Ground Beef in every order for the lifetime of your subscription
Dates: Friday, March 1 through Sunday, March 31
About Butcherbox Meat: We offer grass-fed and grass-finished beef, free range organic chicken, and heritage breed pork!
About Butcherbox Ground Beef: ButcherBox Ground Beef is 100% grass-fed and grass-finished and raised free from antibiotics and hormones.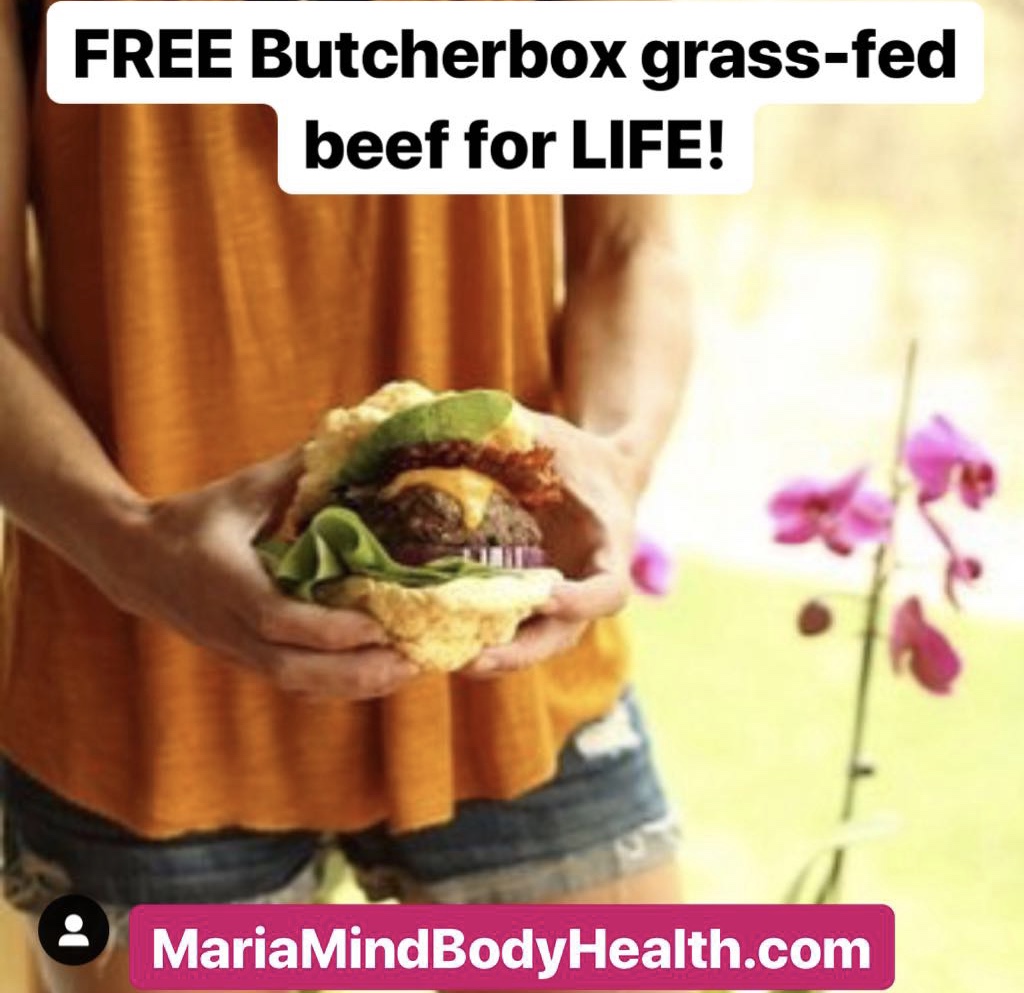 If you didn't know I am writing a new cookbook called Keto Air Fryer! It has been my favorite book to write because I LOVE my air fryer. I am not a gadget girl but I would be lost without my air fryer. It makes everything so delicious! Hamburgers in the air fryer are so delicious! Moist on the inside with a caramelized outside! Everyone asks me what air fryer I love. I've tried them all and quite honestly, I was frustrated with the smaller ones. I love THIS one by Cuisinart. It is large enough to fit plenty of food yet it is REALLY light weight so I can move it from my pantry into the kitchen as needed. Not only that, but Cuisinart is always quick to respond if there is ever an issue. They even sent me a new Cuisinart Ice Cream maker when my beloved one died of years of weekly use!
Air Fryer Hamburgers
2 strips thin cut bacon
2 (4-ounce) hamburger patties, flattened to ½ inch thickness
½ teaspoon fine grain sea salt
¼ teaspoon onion powder
¼ teaspoon garlic powder
¼ teaspoon smoky paprika
¼ teaspoon fresh ground pepper
Optional Toppings:
2 (1-ounce) slice sharp cheddar cheese (omit for dairy-free)
2 slices tomato
1 slice red onion
¼ avocado, sliced
2 large butter lettuce leaves
Condiments of your choice, such as my Ranch Dressing, mustard, keto ketchup, or mayonnaise
Preheat the air fryer to 360 degrees F. Place the bacon into the air fryer and cook for 4-6 minutes, depending on thickness of bacon and how crisp you prefer the bacon to be.
Meanwhile place the salt, onion powder, garlic powder, paprika and pepper in to a small bowl and stir well to combine.
Remove the bacon and set aside on a paper towel lined plate. Season the patty well with seasoning mixture.
Place the patties in the air fryer and cook for 7 minutes for a medium-done burger, or cook longer if you prefer a more well-done burger. Place the slices of cheese on the burgers and cook another minute the to melt the cheese. Remove the burgers from the air fryer with a spatula and serve with the bacon, tomato, onion, avocado, lettuce leaves, and condiments of your choice.
Best served fresh. Store extras in airtight container in the fridge for 3 days or in the freezer for up to a month. To reheat place into air fryer at 350 degrees F for 4 minutes or until heated through.
Nutritional Info:
521 calories, 42g fat, 32g protein, 6g carbs, 3g fiber
3.4.3177
As I was boogie boarding I heard someone yell "Maria! Are you Maria?" This wonderful young woman ran up to me and gave me a hug for saving her. She was living a life of depression and anger. 5 years ago she reached out to me and I helped her change her life through the Keto WOE. She teared up telling me how she is now a new person free of anger and depression! She is currently a missionary in Maui.
It's pretty cool being able to help people become their best self❤️❤️
Most people I consult are doing keto totally wrong. Get fast results with the my NEW Keto School!