Keto Smoked Salmon Fat Bombs
These Keto Smoked Salmon Fat Bombs need just 5 ingredients and no cooking required making them quick, easy and a perfect snack anytime!
If you're new to the keto diet, you may be wondering what a fat bomb is and why would you want one? Fat bombs are usually a combination of some sort of healthy fat like grass fed butter, coconut oil, nut or seeds. But today I'm sharing a different kind of fat bomb using a favorite protein of mine, smoked salmon! Cream cheese is the fat of choice for these fat bombs and they are awesome for a snack or to serve as an appetizer for a party, even the non keto crowd will love.
The keto diet is all about low carb and high fat so that your body will get into a state of ketosis. When you're hungry, eating something with a healthy amount of fat will keep you satiated and won't spike your insulin as much as something with high carbs. So eating something that has a very low amount of carbs with the higher fat is important. It will also help keep you full for a longer period of time.
Whenever you eat your insulin spikes, but eating something with fewer carbs reduces how high or how often it spikes. When insulin spikes, you won't be able to lose weight. Reducing the amount of times your insulin spikes is the key so that your body will be able to burn fat, your own body fat.
Trader Joe's sells their infamous Everything but the Bagel Seasoning and using it as a coating for these fat bombs is what makes them extra specially delicious! If you don't live near a Trader Joes I've given instructions on how to create your own seasoning at home. I bet you have all the ingredients you need for it as well. Red onion adds a little crunch and capers a nice spice!
Obviously without some sort of coating these fat bombs will be quite sticky to pick up and eat, but if it's just you at home, you can leave off the seasoning. Either way they are a scrumptious way to get in your macros! In fact I'd be happy to just eat a few and call it a meal in my opinion!
Other fat bombs you might like:
This amazing recipe was created by one of my newest members to the SugarFreeMom team, Lauren Lester. She is a fantastic keto recipe developer and I'm grateful to have her join my team while I finish my keto cookbook!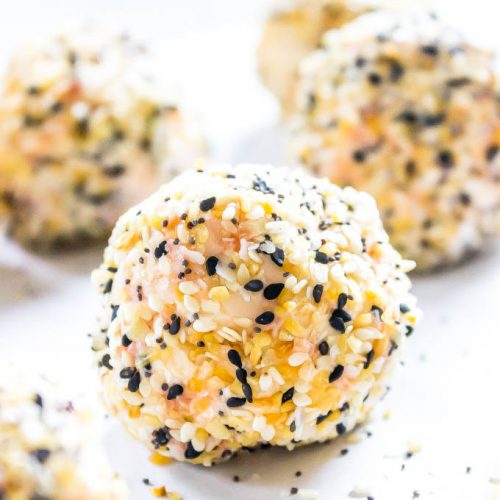 Keto Smoked Salmon Fat Bombs
Ingredients
8

ounces

cream cheese

4

ounces

smoked salmon

2

tablespoons

red onion

2

tablespoons

capers

1/4

cup

bagel seasonings
Instructions
Combine all of the ingredients, except the bagel seasoning, in a medium bowl and mix well to combine.

Roll into 8 equal sized balls then roll in the bagel seasonings.

Store in an airtight container in the refrigerator for up to one week.
Recipe Notes
If you don't have store bought bagel seasonings you can make your own by using a couple teaspoons each of sea salt, dried minced onion and garlic, white and black sesame seeds and poppy seeds.
Nutrition Facts
Keto Smoked Salmon Fat Bombs
Amount Per Serving (1 fat bomb)
Calories 122 Calories from Fat 90
% Daily Value*
Total Fat 10g 15%
Saturated Fat 5g 25%
Cholesterol 34mg 11%
Sodium 839mg 35%
Potassium 68mg 2%
Total Carbohydrates 2g 1%
Sugars 1g
Protein 4g 8%
Vitamin A 7.9%
Vitamin C 0.5%
Calcium 4.6%
Iron 2.2%
* Percent Daily Values are based on a 2000 calorie diet.
Blessings, Brenda
"Lauren is the founder of the creative content agency Healthful Creative which helps food centered brands share their story through recipe development and food photography. She's also the founder of the gluten-free website Wicked Spatula and the co-founder of the keto website, Cast Iron Keto."