Australia won't rule out ending arms deal with Saudis over Khashoggi killing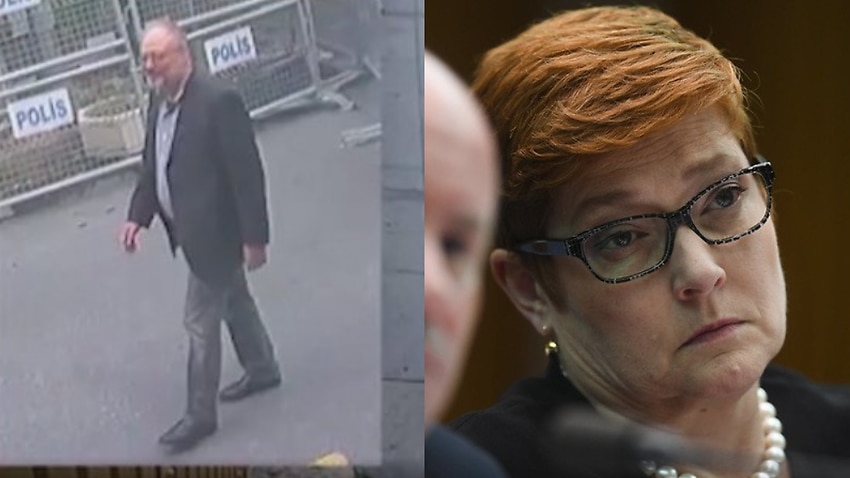 The Australian government is still considering its full response to the killing of Jamal Khashoggi, foreign minister Marise Payne has confirmed and has not ruled out stopping the sale of arms to Saudi Arabia.
"All options are on the table," Ms Payne told a Senate Estimates committee on Wednesday, as she faced questions over the ongoing weapons exports.
Australia does sell arms to the Saudi Kingdom, but details about the volume and the nature of the arms are secret because of commercial-in-confidence rules.
The exports have been controversial for some time. Saudi Arabia is leading a coalition of nations in a bloody conflict in Yemen, bombing Houthi rebels in the country's north.
The conflict has been condemned by human rights groups, who allege brutal violence against civilians.
Ms Payne said the government agreed Saudi forces had violated human rights, but was still considering its "prospective response" to the recent killing of journalist Jamal Khashoggi inside the Saudi embassy in Turkey.
Earlier in the Estimates hearing, defence officials said they could not guarantee that no Australian arms were being used in the Yemen conflict.
Khashoggi killing 'worst cover-up ever': Trump
Defence sales naturally "contributed to the capabilities" of the buyer, they said.
Each sale was only approved after an "assessment" of whether the weapon was likely to be used in practices that would violate human rights law, officials said.
Greens leader Richard Di Natale said the government should immediately order the end of the exports.
"If this government was confident that Australian weapons were not contributing to breaches of international law, to the slaughter of innocent civilians, it would have said so," Senator Di Natale told SBS News.
"It's very clear the Australian government is trying to hide the fact that we are selling weapons of war to a regime that kills innocent civilians, that breaches international law and that murders journalists simply for being critics," he said.
"What more information do you need?"
Germany recently announced it would suspend the sale of arms to Saudi Arabia in the wake of the embassy murder.
New video shows Khashoggi 'body double'.