Coalition votes with Pauline Hanson's 'okay to be white' motion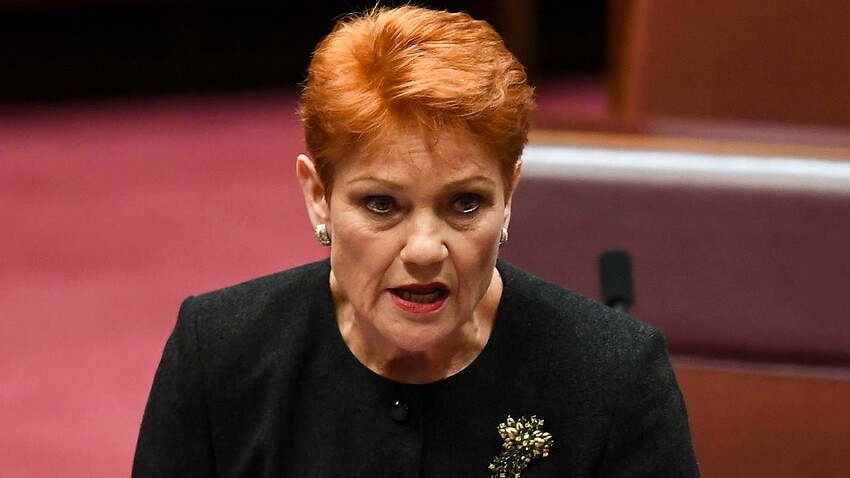 Coalition senators supported the Queensland senator's motion in Parliament on Monday afternoon but in the end it was defeated by 31 votes to 28.
The One Nation leader moved a motion imploring the Senate to acknowledge that "it is okay to be white" and "the deplorable rise of anti-white racism".
"It is indeed okay to be white. Such a simple sentence should go without saying but I suspect many members in this place would struggle to say it," Senator Hanson told the Senate.
"People have a right to be proud of their cultural background whether they're black, white or brindle."
Coalition senators supported Senator Hanson's motion, as well as crossbench senators Peter Georgiou, Cory Bernardi, David Leyonhjelm and Fraser Anning.

Fraser Anning was roundly criticised in August for calling for a ban on Muslim migration and a 'final solution' to Australia's immigration.
But other senators denounced her motion.
Independent senator Derryn Hinch labelled it "obscene".
"I'm starting to think Senator Hanson and her former colleague Senator Anning are now locked in a race to see who can be the biggest, the loudest racist bigot," Senator Hinch said.
Labor and the Greens combined with several crossbenchers to oppose the motion.
"It's not just okay to be white in Australia, it's actually a ticket to winning the lotto," Greens leader Richard Di Natale said.
"This 'It's okay to be white' slogan has got a long history in the white supremacist movement where both these clowns get most of their material from."